What are the Different Kinds of Porcelain Crowns and its Indication?
Dental crowns have been used for improved dental appearance for many years, and today's techniques offer options and realistic looking teeth like never before. All porcelain crowns/metal free crowns are used for reconstruction of a tooth when a veneer is not a good option. These are the most realistic looking false tooth.
Different Kinds of Porcelain Crown and Advantages: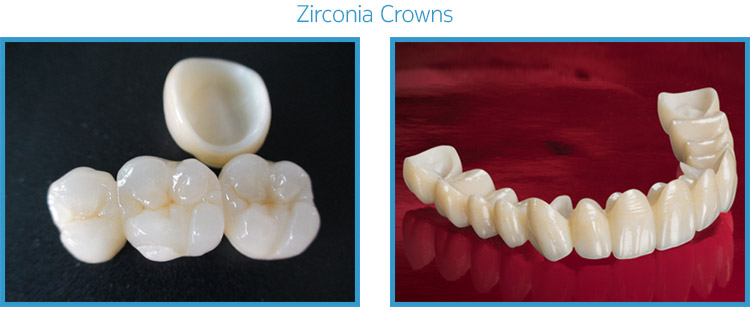 Zirconia Crowns – These are best for bridges, as they are the strongest type of crown.
Composite Crowns – Are less invasive to install and are a popular choice.
All Porcelain Crown (Emax) – All porcelain crowns are an excellent choice for the front teeth, especially, since they are the most natural looking and realistically mimic the same kind of natural teeth translucency.
Captek Crown – Offers quick healing time and excellent aesthetic quality.
Titanium and Non-Precious – Excellent for bridgework and creating an external jacket on damaged teeth.
One of the reasons that porcelain is so popular is that it can be used on pre-existing dental work. Does porcelain fuse to metal crown like gold? The answer is yes. In fact, these are exceptionally strong crowns for both the front and the back teeth. However, sometimes the aesthetic qualities may leave much to be desired with this type of crown combination.
For porcelain crowns fused to titanium/gold/non-precious metal in Manila Philippines, patients will need to find a dentist that specializes in porcelain-to-metal implants. Many Philippine dentists in this tropical area are well versed in cosmetic dental procedures, and can give a consultation before the procedure. Most crowns will blend perfectly with the existing teeth, and are an easy and affordable way to get a better looking smile.
What are the Different Types of Dental Veneers and Its Difference?
Many people are surprised to learn that there are several different types of dental veneers, and each is used for a different cosmetic purpose. While the overall effect of better looking teeth is the same, dentists may prefer one particular type over another.
Types of Dental Veneers
Porcelain veneers – these are the most popular and most used type of veneer. Porcelain provides the most natural looking veneer, although it may be more costly than other types. Unfortunately, porcelain veneers are often required to be created in a lab, and bonded at a later time.
Composite Veneers – These are typically a more affordable type of veneer, but do not last as long as the porcelain, and so must be replaced much sooner. The composite veneers can be applied to the surface of the teeth immediately, and there is no wait time.
Lumineers are a new type of veneer. The traditional dental veneers (Emax) require a greater amount of time and money to install, and may not be reversible. However, the Lumineers in Manila Philippines are reversible, and are said to last up to 20 years. In addition, the Lumineers do not require a lengthy wait to install. The patient can have a new smile in two visits.
Whatever type of veneer is chosen, this dental procedure is quickly becoming the most popular option for reversing unfortunate dental defects. The veneers are painless, fast, affordable and completely undetectable. Choose a dentist's office in Manila that can provide a consultation to help you decide which type of veneer is right for you, and see what a difference porcelain can make to your life.
Will I Go for Dental Veneers or Dental Crowns?
Both dental veneers in Manila Philippines and a dental crown in Manila Philippines serve the same purpose: improving the appearance of the teeth by capping the exterior with a synthetic material.
The difference between veneers and crowns is subtle; a crown is thicker, and fits over the entire tooth, while a veneer is a very thin layer of porcelain that is applied to the front of the tooth. The disadvantage of a crown is that it can be more expensive, and the disadvantage of the veneer is that it may be more fragile.
For porcelain crowns in Manila Philippines, patients can experience hypoallergenic crowns that will completely mimic the look of real teeth. In addition, the porcelain crowns do not have the dark line at the gum line that gives away the presence of a false tooth or crown.
For porcelain veneers in Manila Philippines, a dental patient will experience a very non-invasive procedure that will instantly improve the appearance of the teeth. Some people may choose veneers instead of expensive orthodontia, simply because the appearance will improve so quickly and dramatically.
Which one is suited for me?
The dental patient needs to weigh the greater cost of the crowns against the smaller cost but less durability of the porcelain veneer. The amount of tooth decay, the presence of gum disease and the condition of the enamel may all be factors in helping the patient decide between veneers or crowns. Visit with a cosmetic or regular dentist and get more information for your specific needs. Each patient will have different costs for the procedure, due to the differing nature of their teeth.