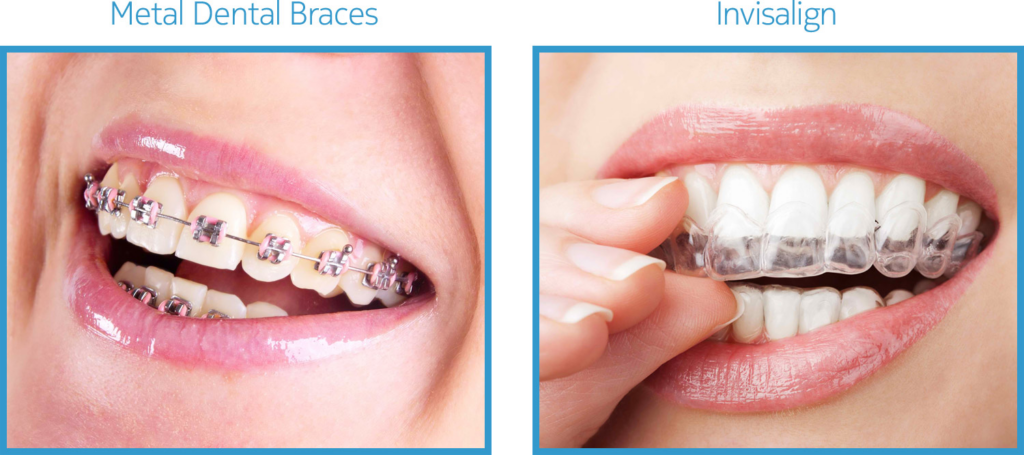 We are very proud to offer Invisalign Braces apart from metal and ceramic brackets. Invisalign uses a series of clear aligners that are custom-molded for each patient. The virtually invisible aligners gradually reposition your teeth into a smile you'll be proud of. Invisalign braces are removable, and most people won't even notice you're wearing them. Results set in in 6 months to 1 year.
Metal and Ceramic Brackets
Invisalign Braces
What is the Difference between Metal Dental Braces and Invisalign?
Braces have been used for many years to help straighten teeth and improve dental appearance. However, recent technology allows for newer methods of orthodontia. When it comes to Invisalign in Manila, Philippines, many people enjoy the sensation of wearing braces that are not visible, as opposed to metal brackets.
An orthodontist in Manila Philippines may explain the three main types of orthodontia:
Metal Brackets – comprised of metal, sturdy and far less expensive braces, but far more visible
Ceramic Brackets – more expensive, but much less obtrusive, quite sturdy as well
Lingual brackets – attached to the back of the teeth and are practically invisible when worn
Plastic Brackets – offer a clear bracket
Self Ligating Brackets – this type of bracket is actually a bit different, in that it does not use the typical metal guide wire to tighten the teeth, but rather a type of door to hold the arch wire in place. Hygiene is easier, but the cost is far higher.
Invisalign Type of Braces are perhaps the best mix of functionality, economy and aesthetic value when it comes to braces. These braces use an aligner rather than the traditional bracket and arch wire combination. The Invisalign are truly almost invisible, and can be work with far more comfort than the typical braces. In addition, they can be completely removed for better hygiene, and are fairly cost effective. The only down side is that the Invisalign can be difficult for children to manage, as they tend to lose their bracket that is all in one piece. This tends to be a less painful method of orthodontia.